Road Sweeping Machine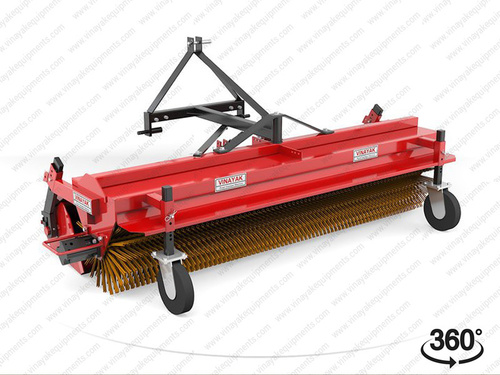 Road Sweeping Machine
Product Description
Road Sweeping Machine is a tractor mounted unit that is commonly for the cleaning of roads. It is fixed with rotatable bristle type brush that is designed to eliminate the dust, dirt, and other impurities from open areas. The body of this unit is fabricated by using mild steel that imparts high strength and rigidity to bear extreme loads and vibrations. The offered Road Sweeping Machine has a width of 2300 millimeters with an adjustable angle of up to 45 degrees.
Technical Specification
Model

VCE - RS - 230

Mounting / Towing

Tractor Back Side

Working Width

2.30 Meter (2300 mm)

Sweeping Width

2.25 Meter (2250 mm)

Sweeping Adjustment

45 Degree Base Adjustable Both Side as per Slope of the Road

Supporting Wheel

Two Heavy Duty Small Wheels (Rubber Molded) Dia. 200 X 50 mm. Adjustable Height with Dust Caps.

Material of Brush

PPN Nylon Brush
3 mm( 520 mmX 50mmX 750 mm)

Brush Size

Dia. 520 mm

Qty of Brush

03 Set.

Dust garbage collection Container Volume

Min. 150 - Max 150 Kg. Lift.

Dust Spread

Normally - Due to Collection Through Bucket

Working Condition

Tractor Run & Standing Position Both Time Working.

Hydraulic System Use

Required for Hydraulic Oil Circulation.

Max. Operating Pressure

150 Bar

Minimum Hydraulic Oil Requirement

20 Ipm

Hydraulic Drive

1 - Hydraulic Motor - 16 mps. Fitted to Turn Shaft with Brushes

Hydraulic Hose Pipe

02 Nos. Hose Fitted ( 5 Meters )

Sweeping Speed

7 to 10 Km / Hour.

Packing Type

Standard Export Packing

Overall Dimension (H X W X L)

1100 mm X 1200 mm X 2650 mm

Net Weight

300 Kgs.